SUNDAY LIVE STREAM SERVICE:  Join us and many other friends of Unity live at 10:30 a.m. each Sunday at https://www.facebook.com/unityofthevalley (you don't have to be a Facebook member). Other links and news are posted after the message. Last Sunday's (9/27/20) service can be watched at: https://www.facebook.com/unityofthevalley/videos/720207775368807/
PHOTOGRAPHING GOD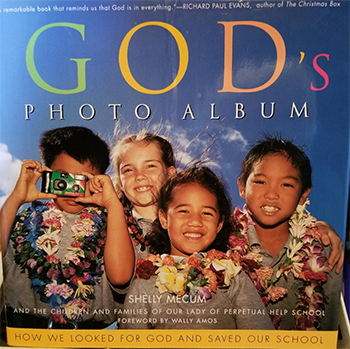 A message from Rev. Sherry Lady
Some years ago, a small elementary school twenty-five hundred miles away from the continental U.S. in Ewa Beach, Oahu, Hawaii, took on a daring and enormous task. There was much concern and conversation between parents, staff and children voicing sorrow over the possible closure of their breathtaking school on the Ewa plain. Being a religious school named after their patron saint, Mary, Mother of God, prayer was important. So, along with Love as the builder of the engine, and Prayer as the fuel, they allowed God to be the driver. What came forth from their faithful dedication was amazing.
Equipped with 300-speed, one-time-use cameras "for small hands that tend to wobble" and a fleet of school buses dedicated to the project, the children were informed one day, "Tomorrow the buses will come. We will board different buses and go look for God. When you find God, take the picture and then write about it. From your photographs and writing, a publisher will make a book. Someday, all over the world people will read your words and admire your photographs."
Of course, it was not quite that simple. Prior to that day there was much conversation, thousands of prayers, money to be raised, people around the world to be contacted, and hundreds of details to be attended to. Their theme song became "I Believe I Can Fly." They certainly did, and from the book that I will reference at the end of this essay, came these words (only some of the many, many) that accompanied the photos from children of all ages.
"The mountains are pointing at God." Jacob Aplaca, age 6.

"I took a picture of my baby brother because I Love him, and God is Love."
Briana Conway, age 6.

"I saw God by the peacock. He was feeding it lots of food and asking: 'Are you happy?'"
Victoria Souza, age 8.

"I saw God in those trees because they look like a close family. God to me is a close family member."
Keala Lee, age 12.

I see God on the mountain, in the sky, in the ocean, and on the cliff. Wherever I go I see God."
Maris Corpuz, age 9.

"We came to this park where there are swings, slides, a ladder, and a basketball court. I think God is here watching over us even as we live."
Angelica Juanillo, age 9.

"I have learned that God lives in the Hard Rock Café."
Dayandra Abella, age 5.

"I see God in the water where people are playing and having fun [in the park].
Jill Hannis, age 10.

"I see God in the food we eat."
Irene Alcain, age 13.

"Queen Lil'liokalani owned the island of Oahu. God made her to be queen. Now she is with God in heaven. I see God in this statue."
Kyle Villaneuava, age 9.

"I found God in a flower. It was dark pink, yellow and orange. It was floating in a pond with a waterfall."
Donna Bell age 9

"God said, stop and sit under the coconut tree and rest."
Rose Oasay, grandmother, 69.

"God is in us all…young and old and in between."
Janinne Jurin, age 28, teacher.

"I found God in this man. He was full of Aloha. He was enjoying the cool breeze, and his spam, rice and vegetables. He looked like he only wanted some time with God."
Krysti Rafanan, age 13.

There are many more wonderful responses in the book, along with the photographs the group took. Being a theatre lover, I am adding one more quote just for those kindred, theater arts friends: "

I find God in the Ala Moana Stage [theatre]. God shows us how to live and love one another as we are loved."
Jennifer Ibarra, age 15.
Remembering my days of dancing with a Hawaiian team from the U of O and the long dress I wore still in my cedar chest, and being grateful for another way to listen from the heart given us by a special culture, along with needing some respite right now like many of you, I found upliftment in what I just shared. Maybe you will, too.
I close with a list of Hawaiian values, sent to me by a friend:
Aloha: Always live with love
Mahalo: Live in gratitude
Imi ola: Seek life
Malama: Tend to the needs of others and the world
No 'oamu: Endure, press forward
Ho'omanawanui: Bear with patience
Lokahi: Seek unity-oneness
Pono: Live righteously
Kuleana: Take responsibility
Ha'ahala: Be humble
Laulima: Work together
Ohana: We are all connected.
Ohana.
Sherry
BOOK: God's Photo Album by Shelly Mecum and The Children and Families of Our Lady of Perpetual Help School. Forward by Wally Amos
*********************
A NOTE TO OUR UNITY COMMUNITY
As many of you already know, our beloved congregant, Michelle Victor, lost her home to the Holiday Farm fire. Thanks to the efforts of Joe Sanders, she now has a Go Fund Me set up for her.
https://www.gofundme.com/f/help-resettle-home-destroyed-in-oregon-fire
Thank you for anything you can do to help here.
VOLUNTEERS OF THE YEAR
Unity of the Valley began an outreach to Looking Glass Residential Services in November 2019. In September 2020, Looking Glass named Pamela Gutierrez, Doris Hicks, and Unity of the Valley volunteers of the year. Great Job Team! For the full story, click here: https://www.lookingglass.us/blog/2020/9/21/2020-looking-glass-volunteers-of-the-year-pam-gutierrez-amp-doris-hicks-unity-of-the-valley-church.
*********************
UNITY COMMUNITY CONNECTIONS VIA ZOOM
WEDNESDAYS (2:00-3:00 p.m.)
Community Connect
Hello Zoomers and Potential Zoomers. A new Unity of the Valley out-reach program, Community Connect, is about to enter your home, by your choice, of course, for the fun of connecting with church friends. This is a one hour, drop in, chatting session for discussing topics of spiritual interest, personal growth, etc. There is a new topic each Wednesday. This is not a class, no homework, no record keeping, just show up and enjoy. Your moderator is Rev. Dick Everts. Try it, you might like it. To take part, send an email request to Rev. Dick at richard.everts@comcast.net.
SATURDAYS (9:45-11:15 a.m.)
Online Kundalini Meditation, Music, Mantra, Gong & Song with Sunny & Vicky Hills
Very Easy & Calming
$12 includes "Unlimited Video Replay"
Please Register in advance for this meeting at
https://us02web.zoom.us/meeting/register/tZMkceqprjIrGtE6Ss-gH1QuKdqO4c9DQWRG After registering, you will receive a confirmation email containing information about joining the meeting.
YOGA CLASSES VIA ZOOM WITH DONNA O'NEIL
As with all of Donna's classes, each person is encouraged to listen to their bodies, and modify as needed. There is never any pressure to do more than you are ready for, and that's especially true as we practice from the privacy of our own homes. Yoga can teach us not only how to move our bodies into alignment, to stretch and relieve tension, but to bring our awareness into the present moment, allowing a freedom of heart and lightness of being to become who you are. Available classes with Donna are:
TUESDAYS (9:30 a.m.) – Gentle Yoga – register at https://eugeneyoga.us/downtown-schedule/.
WEDNESDAYS (10:30 a.m.) – Level 1 Hatha Yoga. This class was previously held at Unity, pre-COVID. Donna holds these via Zoom from her home now. If you are interested in joining the class, or just trying it out, call her at 541-632-0105, or email at yogawithdonna@gmail.com. The online meeting number is ID: 775 275 2582. Donation basis.
THURSDAYS (9:30 a.m.) Gentle Core Awareness – register at https://eugeneyoga.us/downtown-schedule/.
**********************
Your Prayer Team is Here for You!
Do you have a prayer request? Email Rev. Inge Tarantola your name and prayer request at ingetar@pacinfo.com.
*********************
Unity of the Valley's Music Releases can be found at
https://www.facebook.com/unityofthevalley/videos/368369060857899/
Unity of the Valley's inspirational World Day of Prayer video can be found at https://www.facebook.com/unityofthevalley/videos/319246759410499/
Unity of the Valley's Youth & Family's Step-Up video is at:
https://www.facebook.com/unityofthevalley/videos/256344412318519/
We also post Unity videos when possible at: https://www.youtube.com/channel/UCqUL3d7-JjO_45Bo3vLfrWQ/videos
A special Facebook page has been created where we can share inspiration, support, and good humor with each other. It's also a place where church members can ask questions, get answers and seek help if needed. This chat site can be found at https://www.facebook.com/groups/647495692703038/ It's a closed group, not open to the public, so to participate please request membership, an easy process.
***************************
OUR SPIRITUAL COMMUNITY SUPPORT FUND
The Unity Board has approved the creation of Our Spiritual Community Support Fund. This fund was inspired by a Unity member who offered her government stimulus funds to assist individuals in our spiritual community who need it most.
WAYS YOU CAN CONTRIBUTE FINANCIALLY
· Send a check to Unity of the Valley, 3912 Dillard Rd., Eugene, OR 97405 with a note designating if it's for OSCSF or general Unity finances.
· Send a donation through PayPal using the yellow DONATE button on the home page of our website: unityofthevalley.org. This can be a one-time donation, repeated as often as you wish for different amounts, or a monthly recurring donation for a set amount. Make sure you designate whether you want your donation to be applied to OSCSF or to general Unity finances.
· Send an email to unityval@riousa.com stating that you wish to pledge a certain amount, possibly from your government stimulus check to the OSCSF or to general Unity finances. Give your phone number so Géna can contact you to arrange how and when you wish to donate.
· You can write a letter stating you wish to join our Simple Giving Fund to contribute a set amount (state the amount) on a regular basis (state how often) with your bank account routing and account number. Just designate what portion should be used for OSCSF or general Unity finances. Géna, our Office Administrator, opens all our mail in private. So, it is safe to include your account information in a letter, but not in an email.
IF YOU NEED MONETARY ASSISTANCE
To request monetary help, you can write a letter or an email (unityval@riousa.com) directed to the Ministerial Team. Please include the following information:
1. Your name, mailing address, phone number, and email address.
2. Your association with Unity of the Valley.
3. Name of reference at Unity of the Valley (someone who knows you).
4. Brief description of your financial need.
5. How much you are requesting.
6. Do you think your financial needs will require monthly support?
Requests for monetary help will be reviewed by our Ministerial Team. If a request is approved, the amount granted will be dependent on how many requests we receive and how much money is available in the OSCSF.
Thank you all for being an integral part of our loving and supportive community.
---
Facebook Users: Did you know that you can help spread the word about Unity of the Valley and its events?  By Liking the Facebook page and then clicking "Like" or "Share" on individual posts, you can let Facebook know that these posts are important and make sure that the posts are seen by MANY more people.  Please take a moment now to Like the page (if you haven't already) and share a Unity post with your friends.  
Unity's Facebook page is at:
 https://www.facebook.com/unityofthevalley 
Subscribe to our YouTube channel at https://www.youtube.com/channel/UCqUL3d7-JjO_45Bo3vLfrWQ