SUNDAY LIVESTREAM SERVICE: Join us and many other friends of Unity live at 10:30 a.m. each Sunday at https://www.facebook.com/unityofthevalley (you don't have to be a Facebook member). Other links and news are posted after the message. Last Sunday's (7/18/21) service can be watched at https://www.facebook.com/unityofthevalley/videos/july-17-the-amazing-you-discovering-your-hidden-strengths/345215683774275/.
THE BEAUTY OF A CIRCLE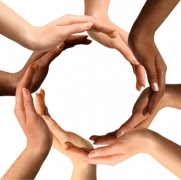 A message from Rev. Sherry Lady
Somewhere deep within our being is a fascination with circles. We talk, more often than we realize, about circling 'round, joining the circle, artistic drawing of circles, circling around the parking lot or a field, putting chairs in a circle and circling the wagons in old western movies. Sometimes we call the circles rings – such as onion rings, soap rings in the bathtub, or watermark rings on a wooden table. Not long ago on a daytime recreational journey with a friend, we realized we had driven full circle around some of the most beautiful scenery Oregon has to offer and there was a sense of completion in doing something special. Circles, upon their completion, often seem to bring a sense of accomplishment.
A year and a half ago when we closed the doors to hunker down within our homes and stay safe while watching the virus progress on a trajectory with no end in sight, we did so with great sadness. A piece of our circle had been opened and left open like a ring that holds car keys. We knew it was the right thing to do but we felt the loss, the ache of loneliness in the separation from our spiritual partners and friends and from all the joy we experienced celebrating together in the unconditional oneness of Spirit. Our loving circle was broken open by something over which we had no control and with an unpredictable future.
We did many things to compensate, adjust and stay in touch. I feel proud of how we managed to do some wonderful things, such as the work of our Phone Connection team, Zoom meetings, and our wonderful livestreamed service offered each Sunday, supported by regular "Connections from the Heart" videos made through the collaboration of our wonderful, adaptive music team. It was all truly amazing. AND NOW…
This coming Sunday, we get to "circle the wagons" once again and come together as a spiritual community. What a joy that will be. Yes, there are some restrictions because pandemically we are not totally out of the woods yet. But it's a beginning–the first step in regrouping and regathering in our return to normalcy and the eventual refilling of that space we love to call our spiritual home. It will take patience, prayers, faith, commitment, dedication as well as constant adaptation to what is until what can be is achieved once again.
Please keep Unity of the Valley's reopening process in your hearts, minds, and prayers. Bless the space between us. Bless the time when there will no longer be physical space between us while remembering there never truly is separation in the world of Spirit no matter where we are. We're getting there, we will arrive there, and in the meantime we can help make it happen through faith. One of the great strengths of the human spirit is the capacity to persevere.
Bernard Malamud wrote: "There comes a time in a [person'] life when to get where he has to go – if there are no doors, or windows – he walks through walls." We are doing our best to make those walls safely permeable. Keep sending out your love, and as the world settles down the time will come when all that kept us apart will be released and the circle will be complete once again.
My heart is longing for your presence. Stay well. See you soon.
Love,
Sherry
******************
NEW SINGALONG VIDEO!
You can practice next Sunday's singalong, "My Heart Is Filled," by watching the video on YouTube or Facebook: https://youtu.be/_mB9PXeo4xs
https://www.facebook.com/116755511733219/videos/981217595976834
THIS SUNDAY, JULY 25
10:30 a.m. We open our doors for regular in-person services. Our Ministerial Team of Sherry, Inge, and Jon will guide us in celebrating the rebirth of Unity of the Vally and the Divine role each of us have in its unfolding. Our music team will be joined by cellist Kathryn Brunhaver. AND we will still be livestreaming the service so you can attend in person or online.
SUNDAY LIVESTREAM SERVICE: Join us and many other friends of Unity live at 10:30 a.m. each Sunday at https://www.facebook.com/unityofthevalley (you don't have to be a Facebook member).
For information on Unity's Reopening Policy & Guidelines, please visit : http://unityofthevalley.org/pdfs/UnityReOpeningJuly2021.pdf.
NEXT SUNDAY, AUGUST 1
10:30 a.m. Livestream Service – The Dreiling/Braun family of Yvonne, Michael, and Nalani will sit down with Jon West to share some of their experiences during the pandemic in Smiling through the Challenges: A Unity Family's Story.
To find out what's happening with our Unity Community, check out our August Bulletin at http://unityofthevalley.org/pdfs/August2021.pdf.
Unity of the Valley's Simple Giving Program is an easy, automatic means by which you can give gifts or tithes to the church in the amount you specify at the frequency you select. To sign up and for more information, click http://www.unityofthevalley.org/pdfs/simplegivingform.pdf. If you have any questions, contact our Administrator, Géna, at 541-345-9913, ext. 11.
UNITY COMMUNITY CONNECTION VIA ZOOM
WEDNESDAYS (2:00-3:00 p.m.) - Community Connect moderated by Rev. Dick Everts. This is a one hour, drop in, chatting session for discussing topics of spiritual interest, personal growth, etc. There is a new topic each Wednesday. To take part, send an email request to Rev. Dick at richard.everts@comcast.net.
SACRED WEDNESDAY MORNING OFFERINGS with Donna O'Neil, because Mornings are Sacred! Start anytime.
· 9:00-9:50 a.m. – Ball Yoga: A fun practice! Great for Balance and Core!
· 10:00-10:50 a.m. – Hatha Yoga: Mindful yoga practices for strength, balance, and flexibility. Level 1
· 11:00 - 11:50 a.m. – Gentle Yoga: Perfect for a quiet start or end to your morning!
These classes are all on Zoom. See my schedule page for cost and more details at
https://yogawithdonna.com/classes-and-schedule. Contact Donna at yogawithdonna@gmail.com or text to 541-632-0105. Let her know you're coming at least 15 minutes before the start of class, so you can get the Zoom link.
SATURDAYS (9:45 a.m.) - Join Sunny & Vicky Hills on Zoom for a grounding Kundalini Breathing, Meditation, Relaxing Gong, and Song class. To learn more, send email to info@sunnyhillsmeditation.com or check out their website: https://www.sunnyhillsmeditation.com/
**********************
Your Prayer Team is Here for You!
Do you have a prayer request? Email Rev. Inge Tarantola your name and prayer request at ingetar@pacinfo.com.
*********************
Unity of the Valley's Music Releases can be found at
https://www.facebook.com/unityofthevalley/videos/368369060857899/
The June Connecting from the Heart video has been posted at
https://www.facebook.com/unityofthevalley/videos/connecting-from-the-heart-june-2021/1173772856398213.
We also post Unity videos, when possible, at: https://www.youtube.com/channel/UCqUL3d7-JjO_45Bo3vLfrWQ/videos
***********************
OUR SPIRITUAL COMMUNITY SUPPORT FUND
The Unity Board has approved the creation of Our Spiritual Community Support Fund. This fund was inspired by a Unity member who offered her government stimulus funds to assist individuals in our spiritual community who need it most.
WAYS YOU CAN CONTRIBUTE FINANCIALLY
Send a check to Unity of the Valley, 3912 Dillard Rd., Eugene, OR 97405 with a note designating if it's for OSCSF or general Unity finances.
Send a donation through PayPal using the yellow DONATE button below.
This can be a one-time donation, repeated as often as you wish for different amounts, or a monthly recurring donation for a set amount. Make sure you designate whether you want your donation to be applied to OSCSF or to general Unity finances.
Send an email to unityval@riousa.com stating that you wish to pledge a certain amount, possibly from your government stimulus check to the OSCSF or to general Unity finances. Give your phone number so Géna can contact you to arrange how and when you wish to donate.
You can write a letter stating you wish to join our Simple Giving Fund to contribute a set amount (state the amount) on a regular basis (state how often) with your bank account routing and account number. Just designate what portion should be used for OSCSF or general Unity finances. Géna, our Office Administrator, opens all our mail in private. So, it is safe to include your account information in a letter, but not in an email.
IF YOU NEED MONETARY ASSISTANCE
To request monetary help, you can write a letter or an email (unityval@riousa.com) directed to the Ministerial Team. Please include the following information:
1. Your name, mailing address, phone number, and email address.
2. Your association with Unity of the Valley.
3. Name of reference at Unity of the Valley (someone who knows you).
4. Brief description of your financial need.
5. How much you are requesting.
6. Do you think your financial needs will require monthly support?
Requests for monetary help will be reviewed by our Ministerial Team. If a request is approved, the amount granted will be dependent on how many requests we receive and how much money is available in the OSCSF.
Thank you all for being an integral part of our loving and supportive community.
---
Facebook Users: Did you know that you can help spread the word about Unity of the Valley and its events?  By Liking the Facebook page and then clicking "Like" or "Share" on individual posts, you can let Facebook know that these posts are important and make sure that the posts are seen by MANY more people.  Please take a moment now to Like the page (if you haven't already) and share a Unity post with your friends.  
Unity's Facebook page is at:
 https://www.facebook.com/unityofthevalley 
Subscribe to our YouTube channel at https://www.youtube.com/channel/UCqUL3d7-JjO_45Bo3vLfrWQ