SUNDAY LIVE STREAM SERVICE: Join us and many other friends of Unity live at 10:30 a.m. each Sunday at https://www.facebook.com/unityofthevalley (you don't have to be a Facebook member). Other links and news are posted after the message. Last Sunday's (4/11/21) service can be watched at https://www.facebook.com/unityofthevalley/videos/april-11-sunday-service/479027743433881/
TEAMWORK
A message from Rev. Sherry Lady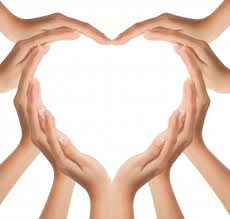 It was Monday morning and 24 nine- and ten-year-old bodies along with one teacher-sized body, were all sharing space on the square rug in the middle of a classroom, encircled by the two-person tables the children used as desks. Coats drippy from rain left spots on the floor under the rack, on top of which were lunch buckets and other items such as sports equipment for recess time. An opening song of the children's choice, chosen from a repertoire they had learned from the start of the school year, was sung. Sometimes everyone clapped along or sometimes it was a more serious tune sung with reverence yet punctuated by a giggle or two since some younger ones have a little trouble with moments that seem too somber or reflective.
Then the sharing began, with the teacher recounting a personal experience from the weekend. After this, raised hands started waving in the air and the assigned class leader for that 2-week period began calling on people for their turn. Sometimes the teacher would help manage the process so feelings would not be hurt or noses get out of joint. When all were done sharing, a moment of quiet was called for and the quote for the day on the chalkboard was read out loud by all before the students finally went to their desks. In choosing the daily quote, the teacher often included quotes the children had found and brought. No talking was allowed from the end of sharing time to when children were seated in their desks and instruction had begun, although there were some smiles and perhaps a quick hug, high-five, or thumbs-up as the rug-time finished. Anyone caught pushing, poking, or giving mean looks would be required to spend a few minutes helping the teacher at recess time.
This same scenario would be repeated during the last hour of the school day on Friday at which time the students would discuss their experiences of the week. If it was the end of the leader's two weeks, another would be chosen, either by volunteering or selected by the previous leader, with teacher approval. This is how it went for the school year. This was our basic structure for classroom teamwork. We were a team, a family, a group of individuals spending 9 months together in the same space learning about the world and about ourselves. We needed it to be as fair, peaceful, stimulating, and interesting as possible. My goal was to combine all that, with love and caring, while navigating through the required curriculum. It seemed to work, with some adjustments along the way, and some failures, too, no matter the age group–and lots of little and big prayers, often throughout the day.
Scriptures of many religions tell us that prayer, worship and celebration of the Divine make an essential difference in our daily life and our world, along with unconditional acceptance, sharing, listening, affirming, and holding a vision of possibility. That is what we were about in our classroom. It wasn't always smooth and easy, but it was worth it.
To me, the model of the classroom we used then matches the model of our Shared Leadership Team here at our spiritual home and learning space. Thanks to our updated technology, this coming Sunday, Unity's Shared Leadership Team will present how we work together for you and for our church community as a whole. We will be prayed up because praying without ceasing is something these folks do each and every day as they hold Unity of the Valley in their hearts. We will not be sharing from a rug in the middle of a room, but you will be seeing our faces coming to you from our own spaces. All of our "rugs" will be joined as one. We will have our leader for the week – known as the facilitator – and we will be sharing from our hearts before taking care of a bit of business. We hope you will remember to join us because you are part of the team as well and the work we do is for all ages, and for all the ages of time. What a joy to unite together in mind, body and spirit, in and with Unity of the Valley.
We are One in the Spirit.
Love,
Sherry
************
THIS SUNDAY, APRIL 18
10:30 a.m. Live Stream Service – Unity's Shared Leadership Team (SLT) will connect heart-to-heart just as they do in their weekly SLT meetings and share their personal experience of Growing Through Our Daily Ups and Downs.
12:00 p.m. – Sunday After-Service Discussion Group via Zoom with Denise-Christine. This is an opportunity to share what the day's message meant to you while getting to know one another better. To participate, email UnityEugeneDiscussionGroup@gmail.com to receive a link and password to join the meeting.
*****************
INVITATION TO SHARE A MYSTICAL EXPERIENCE
Have you had one or more "mystical" experiences that gave you a window–however brief–into a higher reality? A moment of clarity that changed your perception of life? An experience of a higher love or deeper joy than you ever felt before? A blessed occurrence or amazing coincidence that filled you with a sense of faith and gratitude in Divine Order?
If so, this is an opportunity to prayerfully consider if any such experience "feels right" to share. We recommend choosing an experience that you've had time to incorporate into your being, so it's fully part of you–not something that is still settling. Please be sure you are sharing without any need for response or feedback so there is no ego involvement. Let it be an unconditional giving. We will do our best to share as many submissions as possible on our Facebook page or in other ways.
Submission Information
Formats:
1. In writing: 500 words or less (for example, this article is about 200 words);
2. In a video: up to 3 minutes long.
Identity: Although we would like to know who is submitting their true story, let us know if you would like it to be shared anonymously, with your initials only, or your full name.
Please submit by May 15th.
Contact: Jon at jwest97405@gmail.com or 541-683-7664.
*************
UPCOMING
To find out what's happening with our Unity Community, check out our April Bulletin at http://www.unityofthevalley.org/pdfs/April%202021.pdf.
Unity of the Valley's Simple Giving Program is an easy, automatic means by which you can give gifts or tithes to the church in the amount you specify at the frequency you select. To sign up and for more information, click http://www.unityofthevalley.org/pdfs/simplegivingform.pdf.
If you have any questions, contact our Administrator, Géna, at 541-345-9913, ext. 11.
UNITY COMMUNITY CONNECTION VIA ZOOM
WEDNESDAYS (2:00-3:00 p.m.) - Community Connect moderated by Rev. Dick Everts. This is a one hour, drop in, chatting session for discussing topics of spiritual interest, personal growth, etc. There is a new topic each Wednesday. To take part, send an email request to Rev. Dick at richard.everts@comcast.net.
SATURDAYS (9:45 a.m.) - Join Sunny & Vicky Hills on Zoom for a grounding Kundalini Breathing, Meditation, Relaxing Gong, and Song class. To learn more, send email to info@sunnyhillsmeditation.com or check out their website: https://www.sunnyhillsmeditation.com/
**********************
Your Prayer Team is Here for You!
Do you have a prayer request? Email Rev. Inge Tarantola your name and prayer request at ingetar@pacinfo.com.
*********************
Unity of the Valley's Music Releases can be found at
https://www.facebook.com/unityofthevalley/videos/368369060857899/
The April Connecting from the Heart video has been posted at
https://www.facebook.com/unityofthevalley/videos/4072016732856887.
We also post Unity videos when possible at: https://www.youtube.com/channel/UCqUL3d7-JjO_45Bo3vLfrWQ/videos
***************************
OUR SPIRITUAL COMMUNITY SUPPORT FUND
The Unity Board has approved the creation of Our Spiritual Community Support Fund. This fund was inspired by a Unity member who offered her government stimulus funds to assist individuals in our spiritual community who need it most.
WAYS YOU CAN CONTRIBUTE FINANCIALLY
Send a check to Unity of the Valley, 3912 Dillard Rd., Eugene, OR 97405 with a note designating if it's for OSCSF or general Unity finances.
Send a donation through PayPal using the yellow DONATE button below.
This can be a one-time donation, repeated as often as you wish for different amounts, or a monthly recurring donation for a set amount. Make sure you designate whether you want your donation to be applied to OSCSF or to general Unity finances.
Send an email to unityval@riousa.com stating that you wish to pledge a certain amount, possibly from your government stimulus check to the OSCSF or to general Unity finances. Give your phone number so Géna can contact you to arrange how and when you wish to donate.
You can write a letter stating you wish to join our Simple Giving Fund to contribute a set amount (state the amount) on a regular basis (state how often) with your bank account routing and account number. Just designate what portion should be used for OSCSF or general Unity finances. Géna, our Office Administrator, opens all our mail in private. So, it is safe to include your account information in a letter, but not in an email.
IF YOU NEED MONETARY ASSISTANCE
To request monetary help, you can write a letter or an email (unityval@riousa.com) directed to the Ministerial Team. Please include the following information:
1. Your name, mailing address, phone number, and email address.
2. Your association with Unity of the Valley.
3. Name of reference at Unity of the Valley (someone who knows you).
4. Brief description of your financial need.
5. How much you are requesting.
6. Do you think your financial needs will require monthly support?
Requests for monetary help will be reviewed by our Ministerial Team. If a request is approved, the amount granted will be dependent on how many requests we receive and how much money is available in the OSCSF.
Thank you all for being an integral part of our loving and supportive community.
---
Facebook Users: Did you know that you can help spread the word about Unity of the Valley and its events?  By Liking the Facebook page and then clicking "Like" or "Share" on individual posts, you can let Facebook know that these posts are important and make sure that the posts are seen by MANY more people.  Please take a moment now to Like the page (if you haven't already) and share a Unity post with your friends.  
Unity's Facebook page is at:
 https://www.facebook.com/unityofthevalley 
Subscribe to our YouTube channel at https://www.youtube.com/channel/UCqUL3d7-JjO_45Bo3vLfrWQ